About Fife Family History Society
Fife Family History Society, which was formed in 1989, aims to join together people with an interest in the research of their Fife ancestors. The society produces a journal 3 times a year free to members, and holds a meeting on the second Tuesday of the month from September to April. A trip to a library or some place of interest is arranged for May. The Society has members in the local area, across the rest of the UK and throughout the world.
The main reason for joining the Fife FHS is to enable contact with others who have similar interests, who also share your enthusiasm and are more than willing to pass on their help and experience. Help is offered to members where we can. The Society attends a number of Family History Fairs throughout Scotland selling their publications and offering advice to those attending.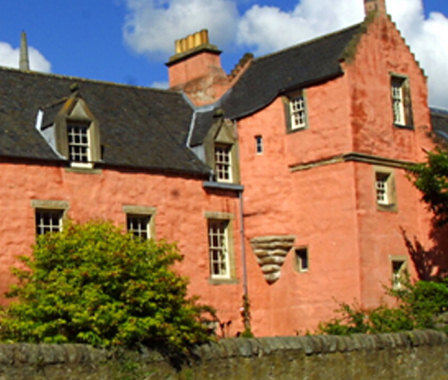 The Fife Familty History Society Consitution of 2007.
The Fife Family History Society Consitution of 2007.
Objects of the Society

The objects of the Fife Family History Society are to promote and encourage the public study of family history, genealogy and local history, primarily but not exclusively, in Fife.The Society shall arrange meetings and public talks, issue journals and publications, support research and publishing of research, and take part in conferences and seminars appropriate to the objects of the Society. The Society may affiliate to organisations concerned with similar objects.The Society may sell or resell items which are of use to members, or members of the public, for their interest or research into family history. Any surplus arising from this activity will be used to further the objects of the Society.

Charitable Status

The Society is a Charity registered with the Office of the Scottish Charity Regulator (OSCR), Number SC025246. The Committee (see 4.1) shall act as Trustees of the Charity.
The Society shall organise its administration and accounting to be compatible with the requirements of the OSCR.

Membership

The Society shall be open to all members of the public with an interest in the objects of the Society. The Society shall consist of duly admitted members whose subscriptions are fully paid.

Officials and Committee

A Committee consisting of Chairman, Vice-Chairman, Secretary, Treasurer, Editor and Membership Secretary and not more than eight other members shall administer the affairs of the Society. The Committee may co-opt members as required within this limit and designate holders of other offices. These positions shall be ratified at the next Annual General Meeting (AGM). At meetings of the Committee, a quorum shall consist of not less than five members, of whom three shall be elected holders of the above positions.
Committee Members shall be elected at the AGM of the Society and shall serve for a maximum of three years and shall be eligible for re-election to the same or any other post. 
The Committee shall have power (in brief) to employ persons to carry on the work of the Society, to appoint sub-committees, to publish booklets and pamphlets, to appeal for funds, to hold property and to raise money on security of it.

Annual General Meeting

An Annual General Meeting of the Society shall be held at a date set by the Committee and notified in the Journal, at which reports will be presented and Subscription rates for the following year decided. Only members of the Society are entitled to cast a vote on any elections or any other proposals.

Finance

All funds raised on behalf of the Fife Family History Society shall be applied to further the objects of the Fife Family History Society and for no other purpose. The preceding provision shall not however prevent the payment in good faith of reasonable and proper remuneration to any employee of the Fife Family History Society and fees to professional and technical advisors or the repayment to members of the Committee or to members of any sub-committee appointed by them under clause 4.3 of reasonable out-of-pocket expenses.
The Treasurer shall keep proper accounting records and shall prepare proper accounts annually in accordance with the requirements of the OSCR and at such other intervals as the committee may direct.
The accounts shall be independently examined at least once a year by an examiner appointed by the Committee.
If the examiner ceases to hold that appointment during the period between the Annual General Meetings, the Committee shall have the power to appoint a replacement examiner or examiners, to hold office until the Annual General Meeting, which next follows.
An examined statement of accounts for the last financial year shall be submitted by the Committee to the Annual General Meeting for approval.
Bank accounts shall be opened in the name of the Fife Family History Society with such banks and/or building societies as the Committee shall from time to time decide. Funds may be invested in bonds or securities as agreed by the Committee. The Committee shall authorise in writing three members of the Committee (one of whom shall be the Treasurer) to sign cheques on behalf of the Fife Family History Society. All cheques must be signed by not less than two of the three authorised signatories.

Property

The title to all property, heritable and moveable, which may be acquired by or on behalf of the Society, shall be vested in the names of the Chairman, Vice-Chairman, the Secretary and the Treasurer for the time being ex officio, or in the names of Trustees of a Trust established for that purpose.

Constitution

No alteration of this Constitution can be made except at an Annual General Meeting, when a two-thirds majority of those voting is required. Proposals for alterations to the Constitution must be in the hands of the Secretary at least six calendar months before the Annual General Meeting in order that the membership can be advised in the Journal prior to the AGM.

Dissolution

If the Committee by a simple majority decides at any time that on the ground of expense or otherwise it is necessary or advisable to dissolve the Society, it shall call a Special General Meeting of the Society, of which meeting not less than three months notice (stating the terms of the resolution thereat) shall be given. If such decision shall be confirmed by a two-third majority of those present at this meeting, the Committee shall have the power to dispose of any assets held by or on behalf of the Society. Any assets remaining after the satisfaction of any proper debts and liabilities shall be given or transferred to such other charitable organisation, or organisations, having objects similar to the objects of the Society, as the Committee shall determine.
Ratified at AGM 2007